"I've lived by a man's code designed to fit a man's world, yet at the same time I never forget that a woman's first job is to choose the right shade of lipstick." --Carole Lombard
Carole Lombard was one of the Hollywood's great actresses of the 1930s. A natural comedienne, she had started acting as a child actor in silent films in the 1920s and signed with Fox Pictures in 1925. Cut loose by Fox in 1930, she was picked up by Paramount and immediately embarked on a career of outstanding work that cast her opposite such Hollywood greats as John Barrymore, William Powell (her husband from 1931-33), Gary Cooper, Jimmy Stewart, Clarke Gable, and George Raft. She was, by 1940, the highest-paid actress in Hollywood.
After a tragic romance with singer Russ Columbo ended in his accidental shooting death, Lombard entered into a long-time romance with Gable. Gable, who was still married to Ria Langham, could not divorce because of the cost. When a tabloid made several extramarital relationships in Hollywood public, Hayes Commission head Will Hayes went to the major studio heads demanding that the wayward leading men either legitimate or cease these relationships. Gable decided to join Lombard, and took the role of Rhett Butler in the screen adaptation of Gone with the Wind in order to offset the significant financial loss that would accompany a divorce. Gable ended up nominated for the best actor Oscar and proposed to Lombard over the phone the moment he came available.
Lombard and Gable had settled on a southern California ranch where they sought to make a family while keeping an active performing career. Then came war. After completing the filming of her 57th (and last) film To Be or Not To Be in December 1941, Lombard departed on a war bond campaign, flying back to Indiana to support the new war effort, including a one-day total of $2 million raised (about $50 million in current dollars). She was accompanied by her mother and publicist Otto Winkler, who had been the best man at her wedding to Gable. Finishing the tour, the legendary screwball actress was anxious to get home to Gable. Lombard had vetoed Winkler's suggestion that they sleep in at the hotel and then take a train that night. According to Time, Lombard glibly replied "I'll curl up and take a pill and pff I'll be asleep."Leaving Fort Wayne at four AM on January 16, Lombard's last public words were "Before I say goodbye to you all, come on and join me in a big cheer! V for Victory!"
TWA Flight 3 (a DC-3) followed a southerly course to LA via New Mexico and Nevada. When the flight refueled in Albuquerque, military transport authorities sought space for fifteen officers of the ferry command, returning to base on the west coast. Four passengers gave up seats for the officers. Among them was the world-renowned Hungarian expatriate violinist Joseph Szigeti, who had settled in California after fleeing the Nazi rise in central Europe. Refueling again in Las Vegas, the plane flew on a clear, moonless night in fair weather. However, as a wartime America adjusted to the conditions of war time, tragedies followed. Due to ongoing concerns about a Japanese threat to the western US, navigational beacons were blacked out. The TWA flight veered off course seven miles, and struck Mount Potosi, southwest of Las Vegas on the Red Rock Ranch, owned by radio performers Chet Lauck and Norris Goff. All 22 persons on board including 15 US servicemen were killed. As Time Magazine reported the next week:
At 7:30 miners in Nevada's mountains, some 30 miles southwest of Las Vegas, heard a terrific explosion, saw a vivid flash near the top of Table Rock Mountain.Flames shot up from the lonely peak, then faded. Searching parties started out over snow that bogged horses belly-deep. Men toiled up over flinty rock that shredded boots into uselessness, struggled vertically up through some of the most difficult, barren rockland in the U.S.From Los Angeles flew Husband Clark Gable. He reached Las Vegas, sleepless, waited. Breaking away from friends, he tried to scale the mountain, failed, went back to his hotel, haggard, unshaven, weary. Some 14 hours after their start, climbers reached the wreckage.Mangled and burned were Miss Lombard, the other three civilian passengers, the 15 Army flyers, the crew of three. The transport had smacked straight into the mountain's steep wall, only 200 feet below the peak, then had slid, broken, into a ravine. For yards around, the scattered pine trees were scarred, the snow melted clean away. Why the plane had crashed, nobody yet knew.
The crash resulted in epic headlines. Lombard was the first woman to die in a wartime-related activity, and the media and public were both riveted by the event. Not all the media were impressed with the coverage with its emphasis on celebrity. Noted CBS reporter and commentator Elmer Davis criticized, on air, that newspaper coverage of the crash had lost sense of proportion especially for a time of war. Davis in particular criticized the overemphasis on the celebrity of Lombard and the lack of attention to the loss of fifteen important military personnel. Davis was later "drafted" by President Roosevelt as the head of the Office of War Information, in part because of his no-nonsense, clear-headed thinking about media coverage. Davis was also a Lombard fan, telling the Saturday Review of Literature that Carole Lombard was Indiana's greatest contribution to culture.
Meanwhile, in Hollywood, comedian Jack Benny, at a loss for words, cancelled all comedic bits in his January 18 program.
Clarke Gable left Hollywood for the balance of the war, enlisting in the Army Air Corps in August 1942, where he served as a gunnery officer in B-17s. He flew five missions. Lombard had implored Gable to enlist when the war broke out, but Gable had initially succumbed to studio pressure (MGM did not want to place their biggest star at risk). Lombard's memory was later honored with the commissioning of a merchant marine transport in her name, the SS Lombard.
The Civil Aeronautics Board report on the accident termed the accident a product of "pilot error." The man at the controls, Wayne C. Williams, had over 12,000 hours of flight time, much of it in type on the DC-3. Post production editing of her last film cut a comedic line uttered by Lombard, "What can happen in a plane?"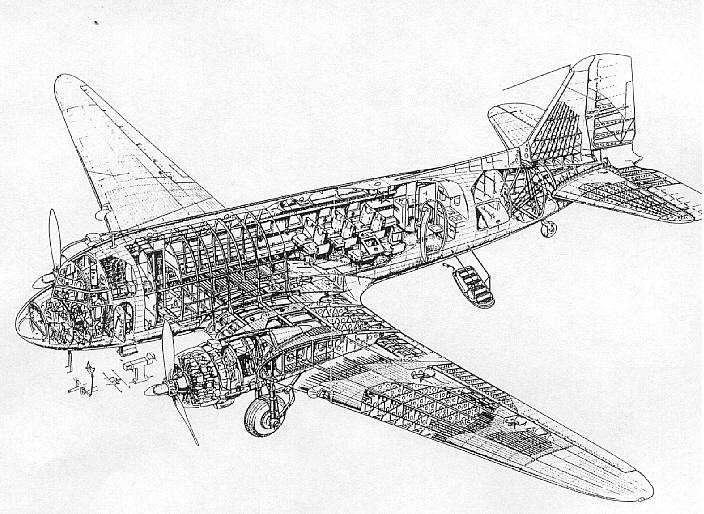 About the DC-3
: After the crash of a Fokker Tri-Motor on TWA 599 in 1930 (the Knute Rockne crash), Transcontinental and Western Air (T&WA) decided to abandoned the Dutch designer's craft, grounding all Fokkers. In order to save the business, T&WA had sought out a new multiengine design with a metal frame, retractable landing gear, and able to run on one motor if necessary. The accepted prototype to replace the suspect T&WA fleet was a reluctant submission by Donald Douglas, the Douglas Commercial. Type 1, the prototype, completed a cross-country flight in under 14 hours, and went into production as the DC-2 in 1934. A larger version, the DC-3, went into production in 1935. Commercial and military demand led to the construction of over 13,000 DC-3s (including 10,000 as the military C-47). Nearly 400 are still in use today. In the records kept by the NTSB, there are only 43 documented fatal crashes involving DC-3s since 1960, despite the widespread use of the craft as a transportation workhorse into the 1970s.