September 1 1983:

Rep. Larry McDonald
Larry McDonald won his seat in Congress as part of the tidal wave of Democrats elected in the 1974 midterm elections.

McDonald, a urologist and prominent member of the John Birch Society, battled former POW and retired Air Force Colonel Quincy Collins-R for a seat that extended from suburban Atlanta to the Tennessee border. The final margin was under 600 votes, after a week-long recount of the vote in several rural Georgia counties.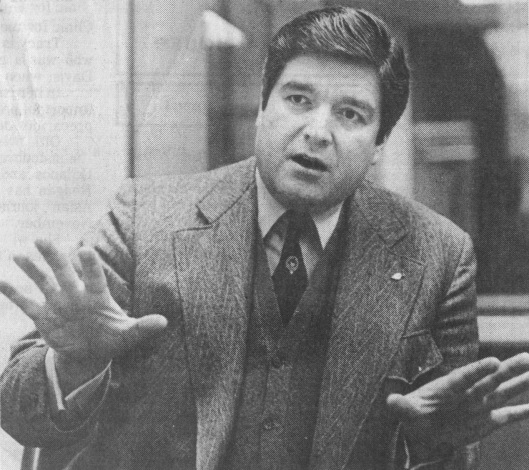 McDonald was a Democrat, but McDonald was no liberal.

His voting record in Congress was one of the most conservative of the 1970s, and he was one of only two Democrats to have a "perfect" Christian voting score according to a predecessor to the evangelical organizations that would dominate politics in the 1990s. He testified against the naming of fellow Georgia congressman Andrew Young as UN ambassador in 1977.

In 1978, he publicly opposed fellow Georgia Democrat, President Jimmy Carter, over Carter's decision to return the Panama Canal to the Panamanians. Sounding ever the Southern Democrat, McDonald decried the proposed Panama Canal stating that "this treaty is backed by the unholy alliance of Big Government, Big Business and Big Labor."

His John Birch Society ties kept him close to controversy, such as in 1976 when JBS members were indicted on drug smuggling charges by federal authorities,

as did his controversial use of laetrile to treat cancer patients in his urology practice.
McDonald created the educational group Western Goals, whose explicit mission statement was to "track and report incidents of subversion and terrorism and the spread of Communism," though the group ostensibly had no ties to the JBS. He consistently presented himself as an opponent to any efforts at rapprochement with the Communist bloc.

In late 1978 he was among a group of fifteen lawmakers led by Barry Goldwater who sued President Jimmy Carter in an effort to prevent Carter from terminating a defensive pact with Taiwan. He also publicly pledged to support the faltering Somoza regime in Nicaragua with military aid immediately prior to the regime's fall to the communist Sandinista Liberation Front.
In 1983, McDonald was named chairman of the John Birch Society.

Later that same year, he was slated to go on a congressional mission to recognize the US's 30-year anniversary of a defense pact with the Republic of Korea (the mission included numerous other members of Congress, including southern conservative Jesse Helms).McDonald, however, missed his connecting flight in New York and ended up catching Korean Air Lines (KAL) Flight 007 from New York to Seoul.

He passed up an earlier Pan Am connection in order to get KAL's lower fare.
The flight disappeared from air traffic radar on September 1 1983. Initial reports from the State Department, according to McDonald's brother Herman, were that the flight had landed on the Soviet Russian island of Sakhalin.

It is here that the story takes the turn to uncertainty, conspiracy, and immortality.
Initial reports that the 747 had landed on Sakhalin were followed by subsequent reports that Soviet jets had forced the plane, which strayed into Soviet airspace, to land. In 1978 another KAL flight on a polar route had strayed off course deep into Soviet territory.
The plane, a Boeing 707,
was fired on by a Soviet fighter and forced to land on a frozen lake near Murmansk; two people died in that landing. So, based on recent experience, the question that remained was whether or not the plane, crew, and 244 passengers were in Soviet custody or at the bottom of the Sea of Japan.
Japanese and Korean defense forces say the plane suddenly disappeared from scopes at an altitude of 30,000, inconsistent with a forced landing but consistent with a mid-air explosion.
The subsequent explanation, as reported in the
New York Times
, was the latter:
A South Korean airliner missing with 269 people on a flight from New York to Seoul was shot down in the Sea of Japan by a Soviet jet fighter near a Soviet island off Siberia, the United States said yesterday.

There were no known survivors of the attack, in which a heat-seeking missile was said to have been fired without warning at the airliner by an interceptor that had tracked it over Soviet territory for two and a half hours.

President Reagan expressed "revulsion" over what he called "a horrifying act of violence." He cut short his California vacation and called a National Security Council meeting in Washington to day to discuss possible reprisals.
Despite Soviet denials of any role in the destruction of the airliner, independent evidence indicated an intentional destruction of the aircraft.

Japanese military intelligence, which monitored Soviet transmissions, released an exchange between ground control and a Soviet interceptor immediately prior to the disappearance of KAL 007:
"Take aim at the target."
Then KAL 007 disappeared from Japanese and Korean radar scopes.
Outrage over the downing of KAL 007 was immediate and widespread.

The United States Secretary of State found Soviet explanations unacceptable, even as mounting evidence confirmed the shoot-down. In Washington, McDonald's family joined the protests:
Tryggvi McDonald, 22, eldest son of Georgia Democratic Congressman Larry McDonald, who was on the doomed flight, addressed a placard-waving rally of 750 people in Lafayette Square and later tried to deliver a letter of protest in person at the Soviet embassy; an embassy employee threw it away. Koreans staged demonstrations, some joined by local residents, in cities as distant from their homeland as Buenos Aires. In Paris, a crowd of 300, mostly Koreans, gathered near the Soviet embassy; some tried to charge police barricades.
Since almost immediately after the shoot down, this tragic event has fed conspiracy theories.

They are controversial and inconsistent.

Among the theories advanced: (1) KAL 007 was deliberately shot down in order to assassinate Rep. Larry McDonald because of his anti-Communist leadership and role as chair of the John Birch Society; (2) KAL 007 was shot down to assassinate Jesse Helms and other conservative Republican senators, but they survived because they missed the flight (this theory in particular fails because Helms and other legislators were on the earlier flight to Seoul that had not strayed into Soviet airspace); or (3) KAL 007 was not shot down at all, but the craft was forced to land on Soviet territory where McDonald was taken into KGB custody;

he continues to be a prisoner of Soviet intelligence; and the aircraft was then flown again and crashed in the Sea of Japan.
These conspiracy theories fail on their face for several reasons, mainly related to knowledge of the passenger manifest and the location of the aircraft during flight.

Larry McDonald was not supposed to be on KAL 007, but boarded the flight at the last minute because he did not make his scheduled flight out of JFK.

If a group of conservative lawmakers were the target of an assassination attempt,

KAL 007 would not be the target.

If Larry McDonald was the target, knowledge of both his missed flight and his subsequent flight would be required, and on exceptionally short notice.

If KAL 007 was the target of a deliberate act of assassination, it was in the wrong place.

The plane was in Soviet airspace for over two hours, and not adhering to its flight plan.

Finally, given the altitude and location of the plane when it disappeared from radar, and the extant communications intercepted by Japanese intelligence, a forced landing does not fit the empirical evidence.
There is no satisfactory explanation for KAL 007 except that it was either a horrible accident, a belligerent reaction to a violation of Soviet airspace, or a warning shot gone wrong in an effort to force the craft to land.

Congressman McDonald's presence stands as an ironic twist to what would have been, in any event,

a significant crisis in the fragile balance of powers of the early 1980s.