March 22, 1958:

Michael Todd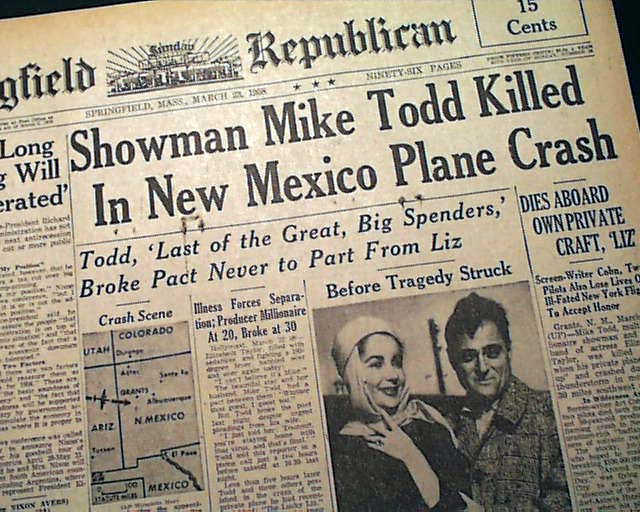 Michael Todd
was an entertainment giant.

A producer of stage and screen, among his more noted and memorable films are Around the World in Eighty Days, which won the Oscar for Best Picture in 1956.

The volatile producer was thrice married, the last time to international star Elizabeth Taylor.

On March 22, Todd and noted sportswriter/ screenplay writer Art Cohn were headed for New York along with pilots Bill Verner and Tom Barclay, leaving Burbank at 10:41 p.m. (Cohn was writing Todd's biography.) Todd was to be honored by the Friars' Club with the "Showman of the Year" award.
The craft they were flying on, a Lockheed Lodestar, was a twin engine transport developed by Lockheed before World War II.

About 625 were built, though they had difficulty cracking a commercial market dominated by the Douglas DC-3.

After World War II, many Lodestars found their way into executive use. Todd's Lodestar, the "The Lucky Liz," (named for Taylor) was one such craft. As Todd and his party traveled east, they encountered winter weather.

Near Grants, New Mexico, at about 1:55AM, Verner radioed flight control, requesting a change in altitude from 11,000 feet to 13,000 feeet because they had encountered "moderate" ice. No further communication came from the "Lucky Liz."
A flash was subsequently reported by the Grants airport. The next day, the remains of the craft were found in the Zuni Mountains.

The wings had iced, making the craft much heavier and placing a strain on the engines. Investigators from the Civil Aeronautics board determined that the plane had crashed nose first into the ground and exploded.
According to the Associated Press, "Miss Taylor did not accompany her husband. She stayed at their West Coast home because of a cold. She collapsed when she heard the news and was placed under sedation." They had one child, Liz Todd, born the previous August.

Taylor's marriage to Michael Todd was the only one of her eight marriages to seven men to not end in divorce (it was her third marriage).
Todd is remembered in industry technical circles for the development of the Todd-AO process for widescreen cinematic process.

It was first used on the 1955 film adaptation of Oklahoma! and subsequently became an industry standard.