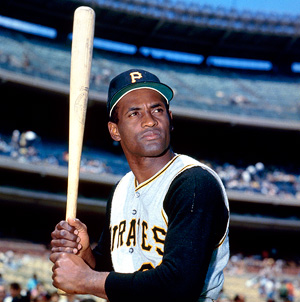 Roberto Clemente's Hall of Fame career with the Pittsburgh Pirates spanned 18 seasons.

Starting in right field for most of his career, Clemente hit .317 and had 3,000 hits with 240 homeruns and twelve Gold Gloves for defensive play.

He was also named MVP by the sportswriters in 1966 and played for two World Series champions (1960 and 1971).
Clemente, a native of Puerto Rico, also had a philanthropic heart, and it was that heart that had him riding in a Douglas DC-7CF bound for Managua, Nicaragua.

Managua was at the epicenter of a magnitude 6.2 earthquake on December 23, 1972, which killed 5,000 and also left over 60% of the 400,000 residents of the city homeless.

Clemente had been in Managua at the beginning of December, and the baseball star had organized three previous relief flights since December 23.

This one was the fourth.
The aircraft was a Douglas DC-7CF, tail registration number N23N.
The craft crashed off the coast of San Juan at 7:23 PM eastern time, killing all five persons on board.
NTSB noted that "inadequate preflight preparation and/or planning factor(s)" contributed to the crash. The report also noted that the craft was overloaded and the weight in the plane not properly distributed (the plane was packed with relief supplies, carrying two tonnes more that 65,000 pounds maximum payload for the craft).
There was also evidence of prior damage to the craft, caused during a a ground taxiing of the craft four weeks prior.
Of the four engines on the DC-7CF, one (the number 3) partially failed and the other (the number 2) totally failed.
It is the only known fatal crash of a DC-7CF and one of only two crashes ever by a DC-7CF. A total of 338 DC-7s of various configurations were built, and over 70 remain in service as of 2008.